I had lessons in the centre from Amsterdam above a shop called "De Vreng". De shop sold accordions, guitars, etc. and above the shop was an accordion school.

It started with test lessons for three months. I had to play from music for the first time and I had no problems with it. After that the teacher decided that I had feeling for the instrument and music and should continue the lessons. So I did.

I had lessons in a group and my parents decided I should go to a private teacher closer to our home. It wasn't very close, but at least my mother didn't have to carry my accordion from our house to "De Vreng".
To "De Vreng" we took tram line 13 from Slotermeer (where we lived) to a stop close to "De Dam" and then walked from there through the street called "de Nieuwendijk", where "De Vreng" used to be.

After my lessons my mother always took me to a little shop where they sold icecream. It was very good icecream, mixed with sweetend whipped cream. This shop, Van der Linde, still exists and if I go to Amsterdam, I always go to Van der Linde to buy icecream. It is still the same. A real treat!
For my private accordionlessons I had to go to Geuzenveld where my teacher Frans van Norden lived. He taught me well. I had lessons for about 8 years. First my mother took me, but after a few years I put my accordion on my bike and went alone.

I liked to play, but didn't just play what my teacher taught me. I listened to the radio and tried to play what I heard. I was a Beatlefan and played some Beatlesongs.
I tried to play the chords I heard and noticed that if I bought the sheetmusic of these songs, it was simplified. So I prefered to play what I heard. (I always had a mind of my own about music).
My primary school had a student-orchestra I played in. The photo on the right was taken at the aula of the school (Burgemeester De Vlugtschool in Slotermeer, Amsterdam), during a performance.

And the photo below shows a group of pupils who was playing for a party at the nursery school to the primary school. Of course that is me on the far right.
Maybe not unimportant for my musical career was my singing. Richard Vries (the boy next to the two girls) and I formed a duo. We sang at school - songs like "When the Saints" - and there are pictures of a school performance. I liked to sing the second voice, but when a third person joined us, Jan-Willem Pieterson, who played guitar and sang too, Richard wanted to do the second voice. "OK", I said, "then I will do the third voice". This was just for the performance though.

These photo's below were taken during a schoolperformance in the fifth or sixth grade. The other accordionist is a teacher of the school, probably mister De Jong, who also played guitar.

After primary school I attended secondary school. In those years I bought a new and bigger accordion from my accordionteacher. He handpicked the instrument when in Italy visiting an accordionfactory. The size of an accordion is usually measured according to the number of knobs on the bass-side - so I went from 80 to 120 basses.

It was a nice instrument. I still have it, so I took a picture of it. I played it too.... just for a few seconds, because the keys are very small and I am not used to it anymore. It amazed me that the sound was still OK.

In 1965, my accordion teacher organised a music evening to present his pupils, who came from Amsterdam, Aalsmeer, Badhoevedorp and Hoofddorp.

I wanted to play a tango by Malando, Olé Guapa, but another student already played that, so I choose Guapita instead, another tango by Malando, a dutch orchestra leader who's real name was Arie Maasland but became famous as "Malando with his tango-rumba orchestra". I picked "Tanzende Finger", composed by Hans Gerlach, for my second song.
Also in 1965 my accordionteacher introduced me to Hans Meeuwig from Hoofddorp (where we also had the music evening), who was a drummer and needed an accordionplayer for a circus-trio. No, we were not going to be clowns, but we had to accompany the acts that were performed. It was a childrens-circus and I enjoyed playing with them for about 4 years.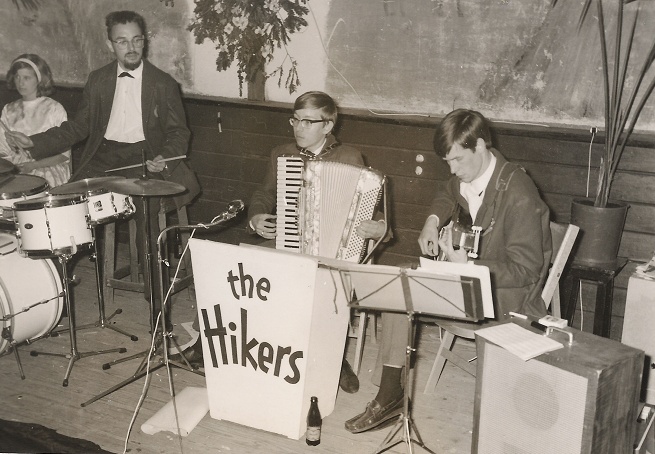 The trio was called "The Hikers",
with Hans Meeuwig, drums, Wim de Groot, guitar and me on accordion.